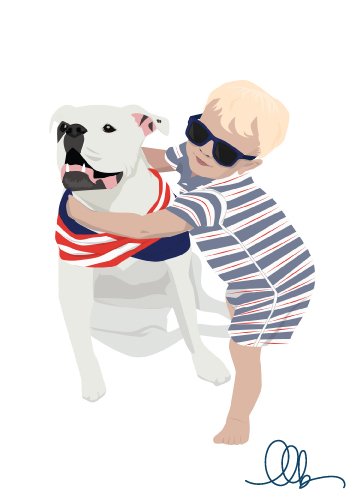 Personal commissions begin at $250 for a single-person illustration and will go up from there based on factors like the final number of subjects, level of detail in the background, and whether you're looking to replicate an exact photo or combine multiple reference photos into one new pose/setting. (Looking for a lower-cost option? Check out my whimsical custom portraits via the Colorful Co.!)
This includes a high-quality, archival print sized to your choosing up to 16x20" and the digital file for personal use.
Pricing for framing is available upon request.
Creating your illustration
To create your illustration, you can send me an exact picture that you love and I can replicate it, or you can send me a few inspiration photos and a description of what you're looking for and I can combine them into one illustration.
We can add in new elements—for example, you could say, "I want to be holding a glass of champagne and sitting on a scooter with a cityscape as the background." Or we can mix and match from your reference photos—for example, "I like my hair and dress in Photo 1 and my husband's outfit in Photo 2, but I want us to be standing in front of the Bean like we are in Photo 3."
To get an estimate for your project, send me a note and I will reply asking for your reference photos and your idea from the piece. From there, I will provide you with the estimate and a link for 50% payment to secure your spot in the queue and begin work.
My turnaround time is typically 3-4 weeks but I will provide a firm date along with the estimate. When I can, I will always try to accommodate rush orders.
Before I kick off work, I will be sure we're on the same page with expectations of what the final product will look like. Once I create the draft of your illustration, you'll receive a digital version of the illustration for your comments and any changes you'd like to see (i.e. "bigger hair, please!" or "Can you make my dress more red?") From there, I will complete the changes and updates. Once you are happy with the final product, I will get your print underway and it will arrive to you within about a week. If you're opting for framing, I'll work with you on timing and costs.